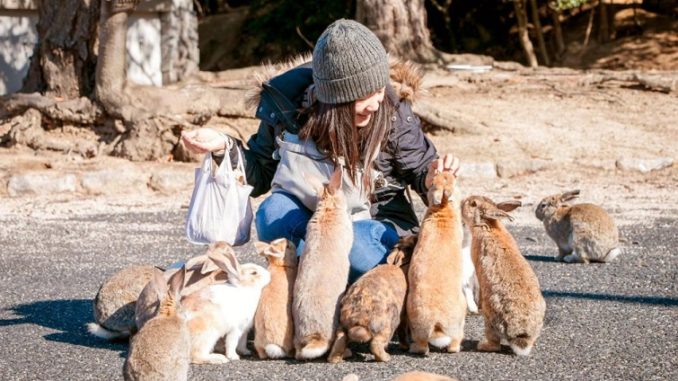 If you are wondering which is the cutest island in the world, we have a suggestion for you: Okunoshima. Located on the Japanese coastline, this small island is home to hundreds of adorable rabbits who are used to the presence of men. For a magical moment, a visit to this rabbit's lair is a tour you can't miss when you visit Japan.
A Rabbit Sanctuary
Not so many people have heard about Okunoshima. It is true that it is not such an important island in terms of size, but it is definitely one of the sites to see when you go to Japan. Though there are many locations that are reserved to wild life (For example: a village of fox and some hot springs for monkeys), this rabbit paradise will conquer the heart of everyone. It provides sanctuary to hundreds of them, and they walk freely among their daily visitors.
Okunoshima, also known as Usaga Jima and Rabbit Island, should definitely be considered in any list that would relate to the cutest island in the world. Around Easter time, visitors love to be surrounded by these rabbits, which remind them of the Eastern Bunny. But there are tourists and Japanese that come to visit them all year round, as they find a bit of peace, sharing space with these little furry animals.
Welcomed by Hundreds of Rabbits
This small island is filled with paths that go through a forest. To get to it, there is a ferry that leaves from the mainland. In only 15 minutes you are back on dry land and surrounded by the fluffy tails of rabbits. You will be surprised how tame they are, as you can actually pet them without having them run away from you. Picking them up is not recommended though, as either you, or the rabbit, could get hurt in the process.
This is their domain, so you have to respect them and the environment they live in. Humans are only passers-by on Okunoshima Island, as they can't stay once the park is closed. However, contrary to most places where animals reside and humans visit, such as St Mark's Square in Venice or Boulder's Beach in Cape Town, you are invited to feed your hosts. In fact, when you do go there, think about buying lettuce and carrots before getting on the ferry. There is a store selling food on the island, but it will cost you more…